Orient Cruise: Dubai
in Travels on

Cruise

,

Orient

,

United arabic emirates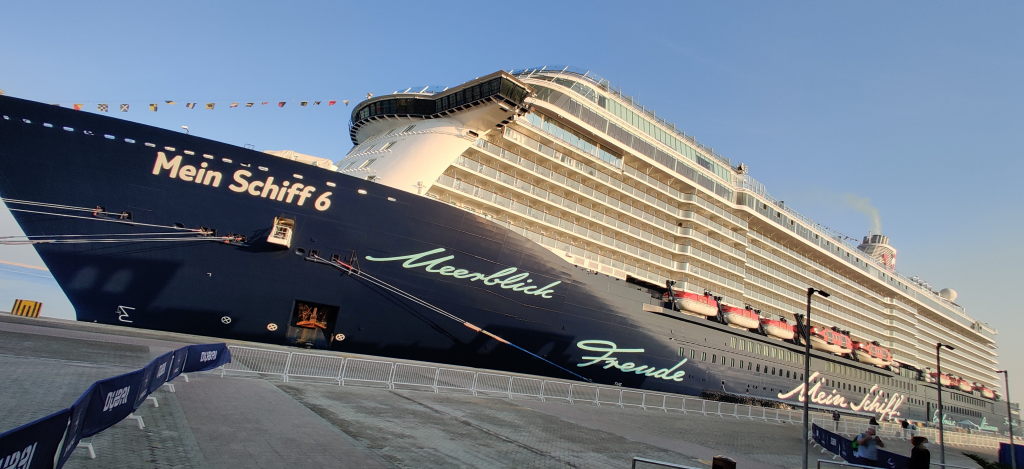 I've been for a week in December 2021 on a cruise in the Orient. Let me share my impressions and thoughts of this journey.
I dedicate this text to Vincent and Sara.

If we cannot share the experience, so let me share at least the story.
Prologue
Also in 2021, holiday plans fell victim to yet another Covid-19 wave. Eventually, I waited until mid December and booked in face of the next emerging Covid-19 variant Omicron the least adventures holidays of my adulthood: a week-long all-inclusive cruise in the Orient with every aspect handled in due care by a world-class global-scale tour operator.
For the sake of completeness, let me quickly recap the outbound connection to the destination. I got a Rail&Fly ticket to a nearby airport in Germany. The Airbus A380 to Dubai, a huge airplane with two floors, was approximately occupied 30%, maybe less. I use Atmosfair.de for CO2 compensation. Not sure who would need to pay for all those empty seats around me. The time difference between Germany and Dubai is 3 hours. I arrive after about 6 hours of flight and a short sleep of about 3 hours at 6 o'clock in the morning. On top of mandatory PCR tests to get on the flight, it seems that Dubai tests just again all tourists upon arrival. No need to wait for the result – it is delivered about 3 hours later to you via SMS. I wonder what happens in the case of a positive test. I didn't find out as my test was fortunately negative. 😁
The tour operator takes care of the transfer to the cruise ship. They also handle all subsequent paper work to enter the destination countries, that means here the United Arabic Emirates (UAE) and Oman. For this purpose, they require all passengers to hand over their passports before getting on board of the ship. After some hesitation and some questioning, I resign and hand out my passport, too.
Once on board of the ship, I drop off my luggage, eat something and head out to explore Dubai on my own.
Dubai: Everything is also a Shopping Mall
I have made no efforts to prepare my first day in Dubai. I only downloaded a city map. The cruise ship harbour of Dubai is a 30 min car ride from the lively city centre. So I join two other passengers, who happen to know Dubai very well, for a shared taxi ride to their destination, the Dubai Mall. I am amazed by all those skyscrappers on the way. Every street is a high way with 3 lanes minimum it seems.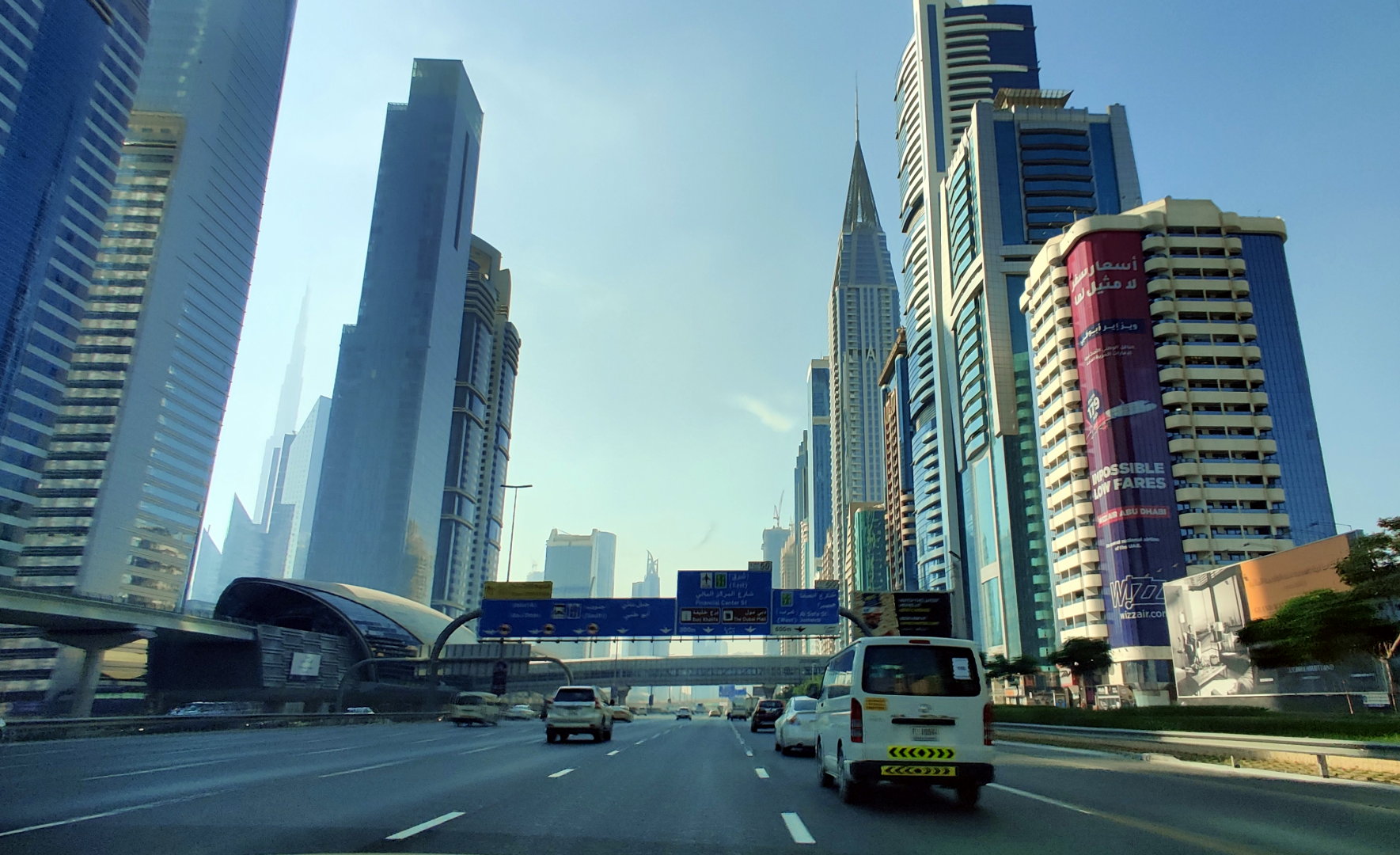 Before the other passengers leave, they point me to the famous aquarium in the mall. The aquarium spans several floors and is indeed impressive. Otherwise, the mall has everything you expect: fashion store H&M, bakery PAUL, L'Occitane en Provence, Birkenstock, Decathlon, the best of the best!

I consider to buy a camera lens for landscape photography. I find an electronics store, who got one for 1500€. Now, the deal I found earlier in the Internet to rent this lens for 100€ per week appears under a totally different, much better light. So I head towards the rental office in the South of Dubai. Long tubes hanging 6 meters over the highways bring you from the mall to the metro. The metro is in fact an aerial railway. And it is packed. The people seem to be from all over the world – later I learn that Dubai has about 80% immigrants.
The photography rental shop is in the 8th floor of a skyscraper. Fortunately, they still have the lens in stock. Unfortunately, I cannot get it, because they ask as a deposit for a) my passport, b) amount blocked with a local credit card, or c) 1200€ cash in local currency. The tour operator has my passport, I don't have a local credit card and feel uneasy to withdraw and hand in 1500€ in cash. I am frustrated. 😩 I envy all those people who have spare passports due to their second nationality. People ask me sometimes why I wanted to become also a French citizen. I just got one argument more. I decide to find another store that possibly rents lenses. I end up in the Dubai Marina Mall and buy eventually for about 280€ an entry-level lens.1
On my way out, I discover a city e-bike self-rental station. I quickly sign up for a day plan (4€) and cycle to the Dubai Marina. I make a lot of photos.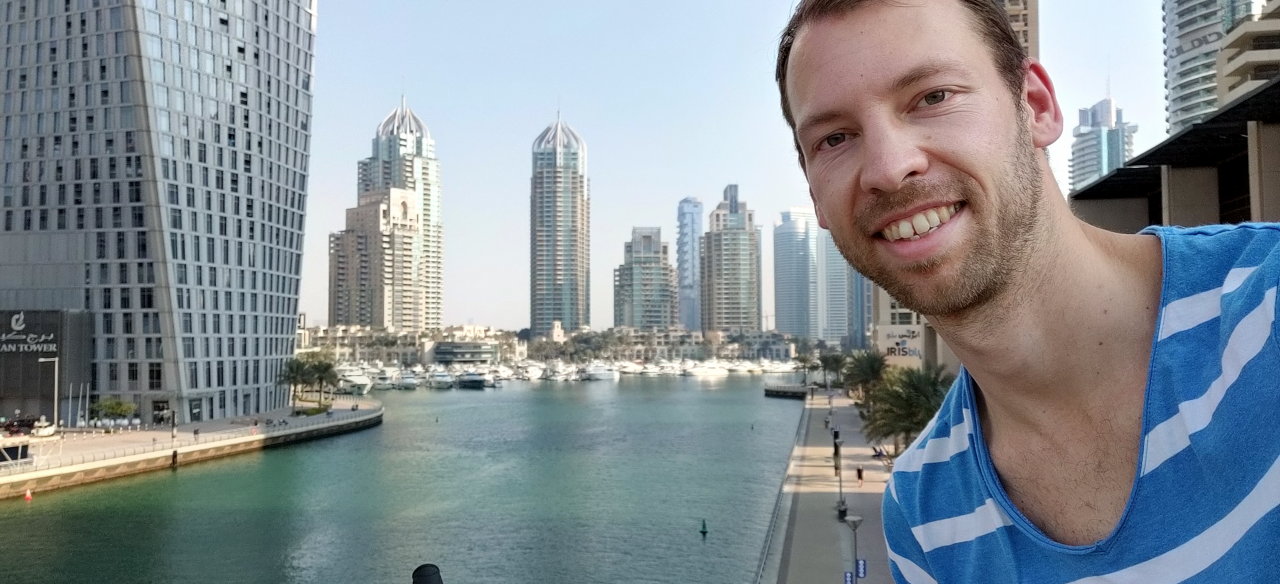 Then, I head towards the artificial lagoon The Palm Jumeirah. Unfortunately, I am on the wrong way of the highway and after half an hour to find a path I realise that there seems to be just no way to cross it with a bike. It happened again two more times later that day.
Eventually, I give up the search and get on the Monorail panorama train to access The Palm. The third stop is integrated in, guess what, the Nakheel Mall. The Mall features a hotel with a restaurant on the top called The View. The ticket for the lift after 4:00 PM (sunset time) is 40% more. It is now 4:03 PM.

I decide to keep it for next time (

Vincent, Sara), hop on the Monorail, and get to the next stop: Atlantis Aquaventure. It turns out, the part freely accessible is mostly a mall. Again! They have also an aquapark and a hotel and Dolphins.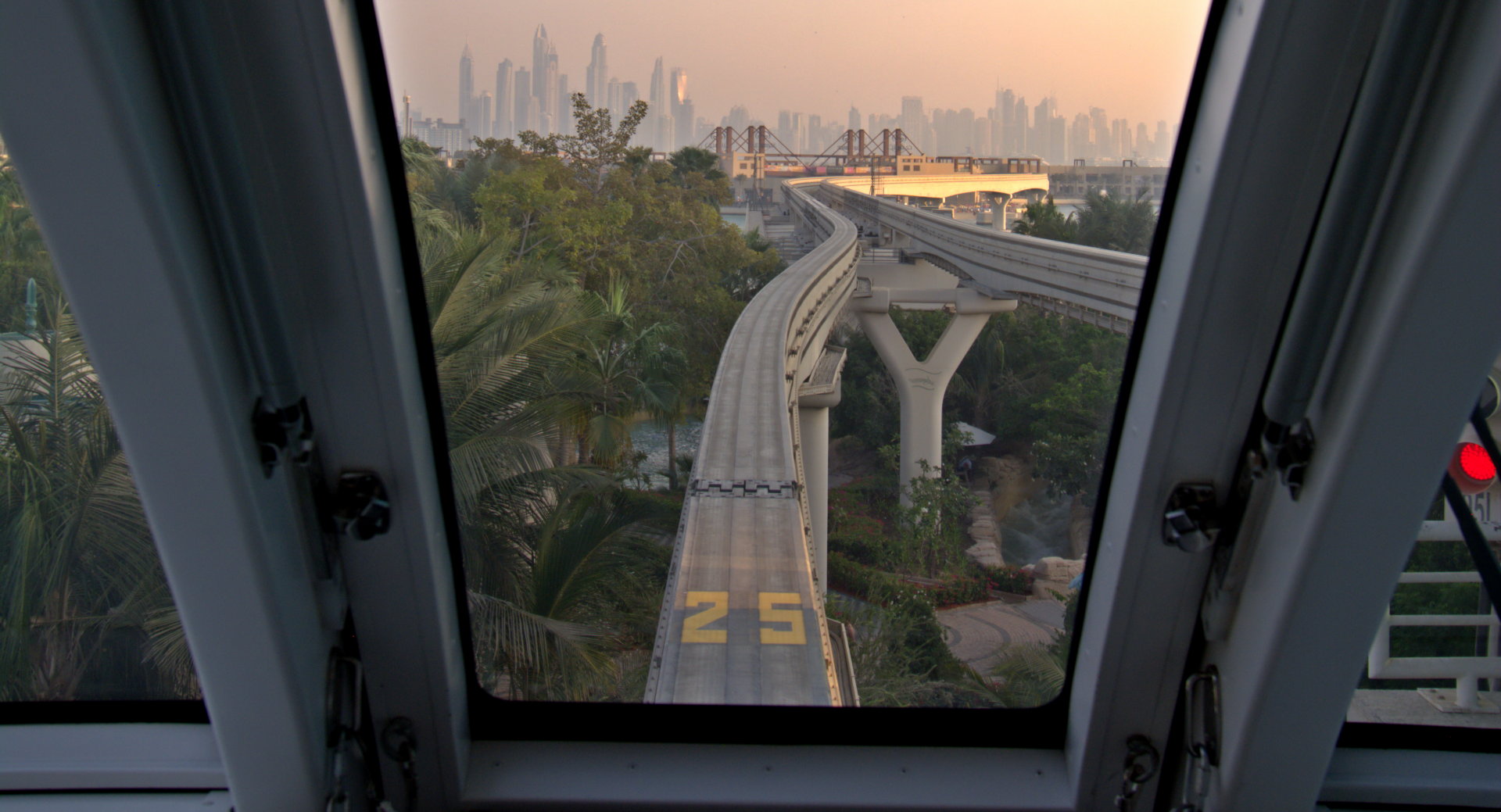 I leave The Palm, find a city e-bike and get back to the harbour. After 90 minutes cycling without a break, I check the map. This city is huge and I am nowhere close to the harbour. On the way to bring the bike back to a rental station, I discover the Dubai Canal and the newly constructed canalfront promenade and bridges. Though I am quite exhausted, I spend another hour to make photos. Eventually, I get a taxi that brings me back to the harbour. At midnight, the ship leaves Dubai for the next stop in Abu Dhabi.